How To? – How To Download A Label Template
Template Tuesday Presents...how to download a label template from the Label Planet website.
Step 1: Find The Label Templates Download Page
Go to the Label Planet website and click on "Label Templates" at the top or midway down the page to reach our Label Templates Home Page. Select your label shape and then your label size to reach the template information page for your self adhesive labels.
Step 2: Select A File Format & Template Format
You need to download a label template that is saved in a file format that is compatible with your software. If you intend to use a word processor (e.g. Word, Word for Mac, Pages etc) then you will need to select a Word Template and if you intend to use a graphics package (e.g. InDesign, Photoshop, Illustrator etc) then you will need to select a PDF template.
Next, select a template format that suits your label design; at Label Planet, we offer a choice between Portrait & Landscape orientations (where possible), as well as speciality formats such as Text Box Templates (if you only wish to add text), Mirrored Text Box Templates (to create mirrored or reversed text), and Bleed Templates (where possible, to allow full coloured backgrounds to overlap each label to avoid white edging).
Step 3: Click On The Download Link To Download Your Label Template
Our download links are all simple text links (in purple) listed in the middle of each template information page under the table headings "Word Templates" and "PDF Templates". (Left) click once on your preferred label template to download the file. If you are asked whether you wish to OPEN or SAVE your label template, select SAVE.
PDF Templates: PDF files will often be displayed in your browser instead of being downloaded. To save a PDF template to your computer, you will need to click on the download button provided by your browser:
Chrome and Firefox display a bar at the top of the PDF with a number of icons. Towards the right hand side, there will be an icon with a downward facing arrow; this is the download button. Alternatively, you can right click anywhere within the PDF and select "Save Page"//"Save Page As".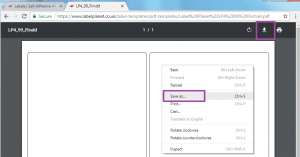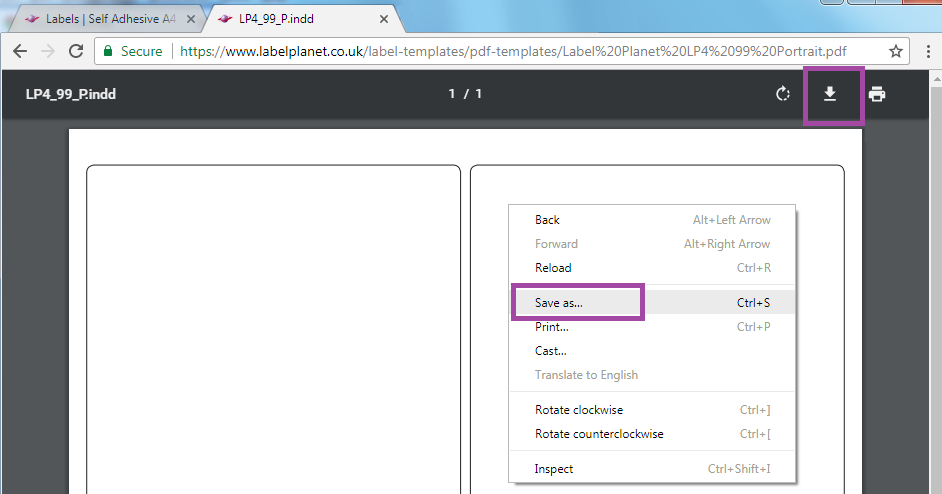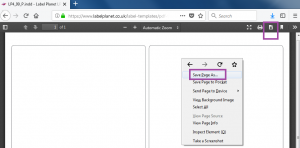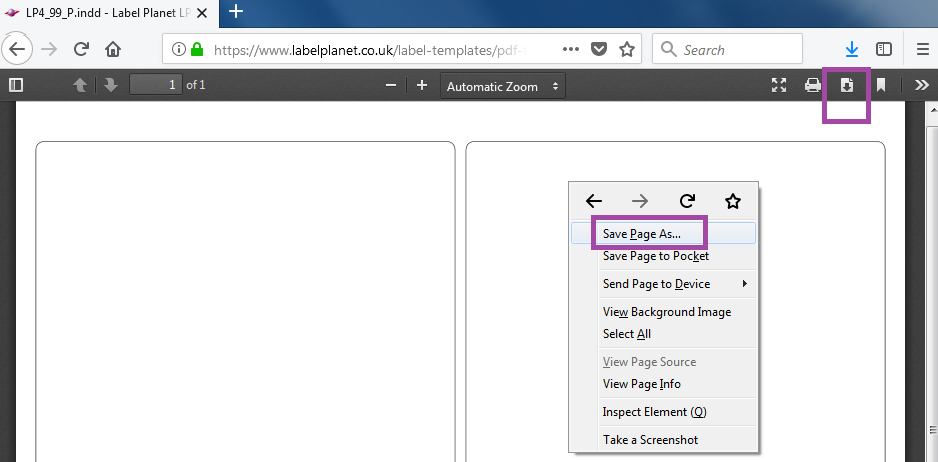 In Safari, there is a pop-up bar that appears when you move your cursor to the bottom of the browser window; the download button is the fourth icon along and contains a downward facing arrow. Alternatively, hold down the Control Key (⌘) as you click on the download link and select "Download Linked File".

Once the download starts, your browser will allow you to view the progress of your download and then navigate to your downloaded file. Downloads are generally saved in a dedicated "Downloads" folder – unless you have previously selected a different folder to be used when downloading items.
Chrome displays a Downloads Bar at the bottom of the browser window (click on the downward arrow next to the file name to view the location of the downloaded file), while Firefox and Safari include a download icon at the top right of your browser menu bar (click on the icon to view and open your downloaded file).

Step 4: Open Your Saved Label Template
While you can simply double click on your finished download to open the saved label template directly, we recommend opening your software and then using the "File" > "Open" menu options to locate and open your saved label template.
Next Week On Template Tuesday – Measurements For Label Templates 101