How To Find & Open A Label Template
Template Tuesday Presents...how to find and open label templates so you can print your own labels.
As we mentioned in last week's post, you can use an existing template that is built into your software or you can download a standalone template file and open it in your software.
FINDING A BUILT IN TEMPLATE
Depending on the type of software you are using, you may first need to select the type of document you need a template for – in this case, you are looking for LABEL templates. Next you may need to select the manufacturer of the label size and layout you wish to print and then you will need to select the code of the label template you wish to use.
Unfortunately, Label Planet is not one of the manufacturers who feature in the list of built in templates that will be available to you BUT we do supply a range of labels that are made using the same label size and layout as those made by other manufacturers that are included in this list.
Opening A Built In Template in Word
Open Word and create a new blank document.
Click on the MAILINGS tab at the top of the ribbon and then click on LABELS, which is on the left hand side of the ribbon.

Click on OPTIONS and make sure that "Page Printers" is selected and that the "Label Vendor" is set to A4/A5.
Next scroll to the template you want to use; there are a LOT of templates included in Word, so you may find it quicker to left click once on one of the codes in the list (it doesn't matter which) and then start typing the code for the template you want – this should cause Word to jump down the list either directly to that code or closer to the code so you don't have to scroll as far.
NB: due to the way that other manufacturers have named their products and templates, there may be multiple templates that can be used to print a particular label size you have ordered from Label Planet.
Once you have selected your code, click OK, then click "New Document"; this opens a copy of the template in a new document and you should be able to see the layout of your labels (if you can't, table gridlines are turned off; see our Troubleshooting Guide to learn how to turn table gridlines on).
FINDING A STANDALONE TEMPLATE
Some label manufacturers and suppliers will have created templates for their customers to use and these are usually available to download from the company's website. If the company you have bought your labels from does not supply templates (and there isn't a compatible built in template available) you will need to source a suitable template from another company (or create your own – see next week's post for more information on how to do this).
At Label Planet, we have created Word templates and PDF templates for our customers to download and use completely free of charge. All of these templates are available in our Label Templates Section; simply select your label shape and locate your label size in the options available. This will take you to the template information page for that size, which contains detailed measurements, our Word templates and PDF templates, tips about printing that particular label size, and a list of the label products we supply in that label size.
You need to make sure that you choose a template that is in a file format that your software can read AND edit; some software may be able to read a particular file format but not edit it – which would mean that you could open a file but not make changes to it. You should be able to find out what file formats your software can edit by using any in built help tools that are available or by visiting the website of the manufacturer/supplier.
Our Word templates can be edited by Word 2007 and onwards or by any Word Processing software that can edit the .docx file format (e.g. Pages, LibreOffice etc), while our PDF templates can be edited by any graphics package that can edit the .pdf file format (e.g. Indesign, Photoshop etc).
To download a template you will usually need to click on a download link (on our site, these are the purple links in the centre of each template information page). Depending on the browser you are using (e.g. Firefox, Chrome, Safari, Windows Edge, or Internet Explorer), you may be given the choice of saving or opening the template or the file will simply be saved to your Downloads folder.
If you are given the option to save or open a template, we recommend choosing save and then using your software to open the saved file – this allows your software to check that it can actually read and edit the template correctly (or convert it if necessary) before you start adding your design.
You can simply double click on the saved template to open it automatically in the default software that your device uses to open that kind of file but we feel that using your software to open your template is a better way to go.
To open a saved template, you simply open your software, click on "File" > "Open" to locate your downloaded template (you may need to select "Computer" > "Browse" first). Most devices list the Downloads folder as a "Favourite" location in your device's file manager, although you can also use the "Search" bar to locate the Downloads folder or your downloaded template (provided that you first tell the file manager to search your Computer (Windows) or All My Files (macOS) and not just the Downloads folder).
If you are using Windows, the file manager is referred to as "File Explorer" and looks like this: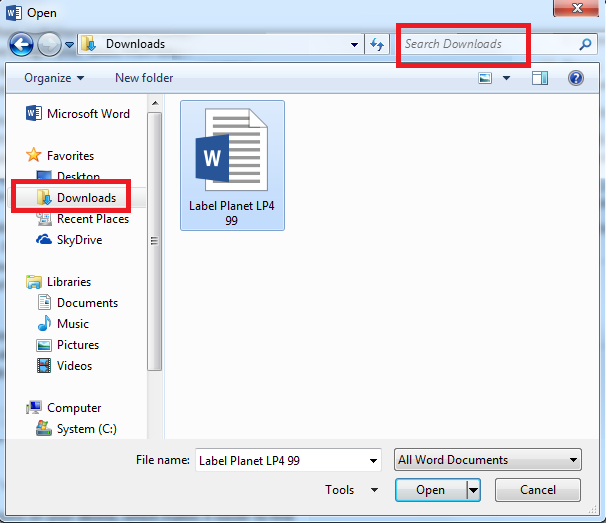 If you are using macOS, the file manager is the"Finder" and looks like this:

It should be noted that almost any file you download from the internet will automatically be put into a protective locked state; when you open a file in your software it is likely that you will be presented with some sort of notice identifying that the file has been downloaded from the internet and asking if you want to proceed.
For example, if you download and open a template in Word, there will be a yellow banner across the top of the page entitled "PROTECTED VIEW" with a button labelled "Enable Editing" – you will need to click on the "Enable Editing" button to be able to work with the template (instead of just viewing it).

Next week on Template Tuesday: How To Make Your Own Label Template