Our Guide To Using Word's Mail Merge Wizard To Print Address Labels
Our guide to Word's Mail Merge Wizard and how to print address labels.
Watch a video: this advice is also available in video format.
View our step by step How To video to learn how to use mail merge to make labels.
Address Labels & Mail Merges – Before You Get Started
To produce your own address labels using Word's mail merge tool you will need:
Address labels!
Check out our range of address labels
A list of addresses!
A spreadsheet is simplest but you can also use: Outlook Contact Lists, Office Address Lists, Word Data Files, Access Databases, or Text Files.
A label template!
A built-in template is best; you will need to check if your software contains a built-in template that is compatible with (uses the same label size and layout) as your address labels.
If your address labels aren't compatible with any of the templates available in your software, you can either download a suitable Word template from elsewhere (like the Label Planet label templates home page) or create a template during the mail merge process. You will need to know the page size, page margins, number of labels per row and column, label width and height, and the vertical / horizontal pitches (these account for gaps between your labels; VP is label height + gap height and HP is label width + gap width). All of these measurements can be found for Label Planet labels via our template home page.
The Template Tuesday Guide To Using Word's Mail Merge Wizard To Print Address Labels
Word's Mail Merge Wizard takes you through the mail merge process step by step. While you can complete a mail merge manually, we recommend the wizard because it guides you through the steps one at a time, makes it simpler to identify any problems that might crop up, and prevents you from accidentally forgetting to complete a step along the way.
Starting The Mail Merge Wizard
Open Word and create a new blank document. Click on the Mailing tab in the ribbon at the top of the page. Click on Start Mail Merge and select Step By Step Mail Merge Wizard. A Mail Merge Wizard panel appears on the right hand side. Follow the instructions in the panel to complete your mail merge; you'll also find useful mail merge tools listed under the Mailings tab.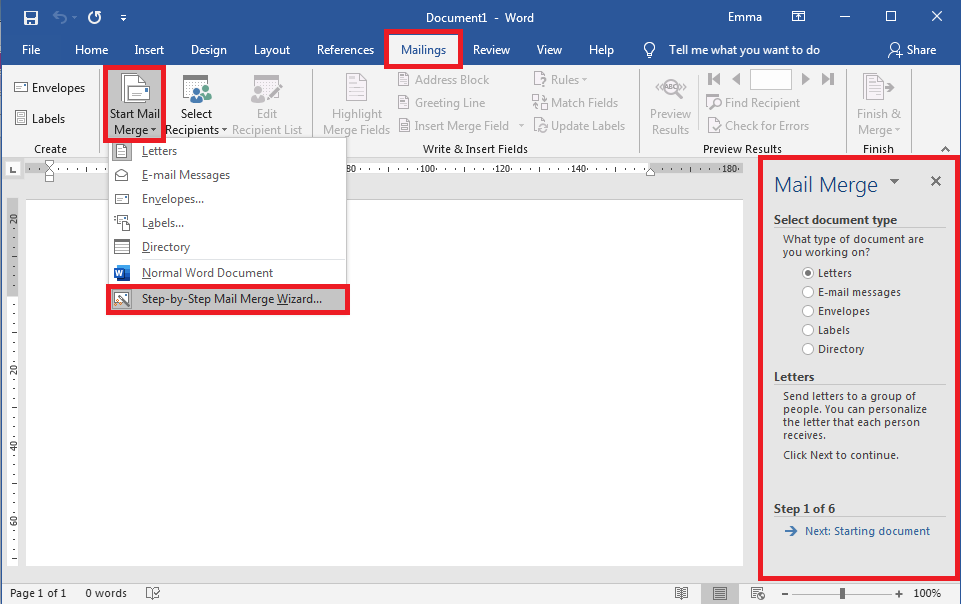 Step 1 – Select Document Type
To print address labels, select Labels from the list of options.
Step 2 – Select Starting Document
Select the label template you need to use…
Built-in templates: click on "Change document layout" and "Label options". Set Printer information to "Page printers" and select the correct Label Vendor under Label information (e.g. A4/A5). Find your compatible code in the Product number list (tip: click on any code and type the first letter/number of your code to jump down the list). Click OK.
Create label templates: click on "Change document layout" and "Label options". Click on "New Label"; this opens a "Label Details" box; enter the measurements of your address labels and click OK.
We recommend entering the measurements in this order: page size, no. of labels, label width and height, vertical pitch and horizontal pitch, and page margins. If Word rejects your measurements, try setting the page margins to 0mm, enter the rest of your measurements as above, and then enter the correct page margins.
Saved label templates: click on "Start from existing document", browse to your saved label template, and click Open.
Step 3 – Select Recipients
Select your list of addresses. Click on "Use an existing list", browse to your list, and click Open.
If your data source has multiple sections (e.g. a spreadsheet with multiple sheets), you will need to select the section that contains your addresses. You also need to indicate if your data source includes column headers (e.g. "Name", "Address" etc).
You will be shown a list of addresses that Word has picked up from your data source. You can sort and filter your addresses and exclude any you don't want to use. Once you confirm your list, the Next Record rule will be added to all of the labels in your label template – except for the first one. When you merge your label template with your list of addresses, this rule tells Word when to start inserting information from the next address – so this rule needs to sit in each label BEFORE any placeholders you add to pull in information from your address list.
If you are using a saved label template, the Next Record rule will not be added automatically; you need to add it using the "Rules" option under the "Mailings" tab. Move your cursor into the second label (as the first label does NOT need the next record rule); click on "Rules" and select "Next Record". You can repeat this process OR copy and paste the first rule you have added into the rest of your labels.
Step 4 – Arrange Your Labels
Add placeholders to indicate where the information from your address list should be added to your labels – along with any other design features you want to include.
Placeholders can be added using the Wizard Panel options ("Address Block" is perfect for address labels) or "Insert Merge Field" under the "Mailings" tab.
When using the Address Block feature, use the Match Fields button to link the correct information in your data source with the correct section of the Address Block. Word will do its best to match these elements automatically but it doesn't always get it right.
We recommend setting up your design in the top left label and copying it into the rest of your labels. The "Update All Labels" button in the Wizard Panel does this for you automatically.
This button is not available for saved label templates. You will need to use copy and paste to complete your template; the next record rule must be included in each label (except the first one), so you need to either add this rule back in after pasting your design OR set up your design with the placeholder and remove it from the first label.
Remember that your placeholders will be replaced by text that may take up more or less room than the placeholders themselves. You don't need to be exact at this point as you can move back and forth between the next stage (which shows you a preview of your finished labels) and this stage to adjust your design if necessary.
If you make changes, remember you can update the first label and use the "Update All Labels" button to quickly apply your changes across the rest of your template.
Step 5 – Preview your Labels
At this point, you can preview a page of address labels with your addresses added into your template. We recommend scrolling through a few of your recipients to check that the information fits properly. Ideally, if you know that a particular address is longer than all the others, check that particular address to make sure it fits.
If your design doesn't quite work, go back to step 4 to make adjustments. Alternatively, if you only have a problem with a couple of very long addresses, you could even go back to step 3 and edit those addresses to make them fit.
Step 6 – Complete The Merge
Merge your list of addresses with your label template to create your address labels!
Test Print Before You Print Your Address Labels
We recommend test printing ONE PAGE before you print all your address labels. Click on "Print" and select the "From" / "To" option. Enter values that represent one page of address labels. For example, if you have 21 labels per sheet, use 1 as the "From" value and 21 as the "To" value.
Put a sheet of paper into the bypass tray of your printer (if it has one) and set your printer to use a "Labels" or "Heavy" print setting. Make sure the page size is set to A4 and that you have no scaling options applied (e.g. less than 100% or any "Fit To…" options). Hold your test print against a sheet of your labels and hold both up to a light source to check the alignment. If you have any alignment issues, you can adjust your template as needed.
Working With A Saved Mail Merged Template
If you save a mail merged template, it remains linked to your list of addresses so you need to keep both files safe for the merge to keep working. If you move, lose, or rename your list of addresses, you can relink your template by clicking on Mailings and "Select Recipients". You can also use this option to link your template to a new list of addresses. If you update your list of addresses, your changes will only appear in your template once you have saved your list and re-opened your template.
To print labels from a saved merged template, you cannot use the normal print option (File > Print). This will only allow you to print the one page of addresses visible on your screen. To access the full list of printing options for merged data (and to print all your address labels), you will need to click on the Mailings tab and click on "Finish & Merge".