Tops Tips For Working With Images In Word Label Templates
What to do when Word doesn't play fair with images in your design.
Word does not always play well with images so we've put together our Template Tuesday Top Tips for taking back control of your label templates when Word simply won't do what it's told!
View our How To video for a step by step guide to working with images (and text) in Word label templates.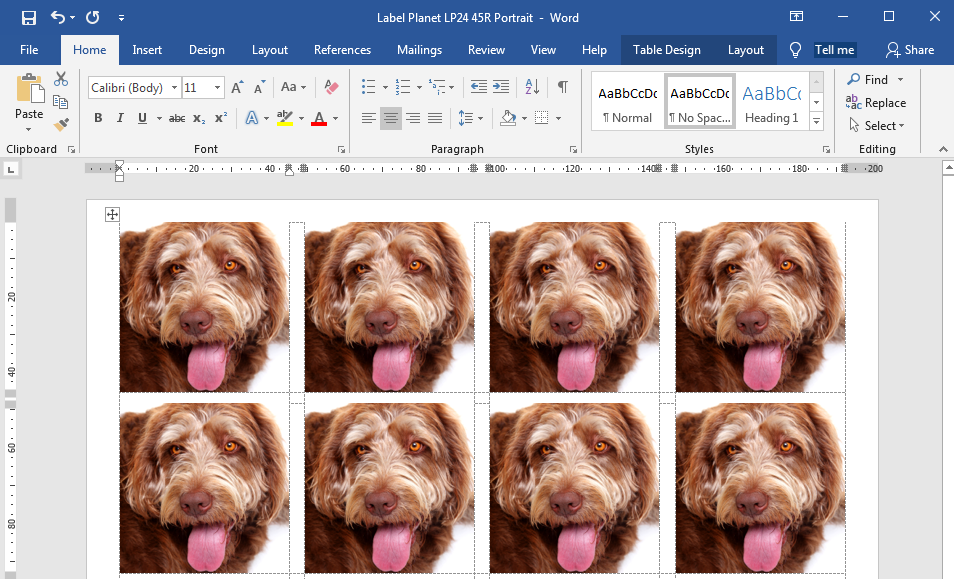 Top Tip No. 1: Use Copy & Paste As Much As You Can
Copy and paste are brilliant tools when it comes to creating – and completing – accurate label templates. You can use copy and paste to quickly add images from external sources. Then, if you're creating a set of identical or similar labels, you can save yourself time AND create a more accurate template by using copy and paste to complete your template.
Add your design to the first label in your template. Once you're happy with it, select that label, copy it, and then paste it into the rest of the template. Not only is this quicker than setting up your design from scratch in each individual label, it is also more accurate – because every design (and therefore every label) will be exactly the same.
Top Tip No. 2: Use A Blank Document If You Have Pasting Problems
If you are pasting an image from an external source and it doesn't paste into your label template properly, try opening a blank Word document and pasting your image into that document first. Sometimes, pasting into a table (used to create Word label templates) can cause problems – especially with image size and resolution. Pasting your image into a clean, blank document sidesteps this problem. You can then copy and paste your image into your label template without any trouble.
Top Tip No. 3: Size Matters (& Resizing Matters Even More)
If your images aren't the right size to begin with, you will need to resize them to make them fit into your template (and onto your labels), which can cause problems with image quality – depending on the type of image you are using.
Vector images store images as a set of instructions, which are used to reconstruct the image each time it is displayed or resized. This means that you can resize these images without losing any detail.
Most images, however, are stored as bitmap images, which are made up of a grid of pixels (or points of colour). If you increase the size of a bitmap image, your software has to add in extra pixels – assigning colour information based on the original pixels around them. If you decrease the size of a bitmap image, your software has to remove pixels. In either case, the detail held in the original pixels is diluted, reducing the quality of the image.
Ideally, you should use images that are already the correct size (or very slightly larger) for your label templates.
Top Tip No 4: Take Care With Coloured Backgrounds / Borders
You need to take care with images that sit at the very edges of your labels – if they are a different colour to the labels themselves. Standard printers and software are limited in how accurately they can align a design to your labels. Any slight misalignment can result in a printing defect known as "white edging" – although "blank edging" would be a more accurate term. This simply means that, where your design doesn't quite align at the edge(s) of your labels, you get a blank, unprinted edge. It is called white edging because most labels are white in colour and so the unprinted area is white.
If there is a gap all the way around each label (as on a sheet of round labels, for example), you can oversize your image slightly so that it overlaps the edges of your label making it impossible for white edging to occur. If there isn't a gap all the way around you will either need to make sure your image doesn't sit at the edges OR ensure that your image is a consistent colour all the way around. This way, when you oversize your image and print your labels, the images will overlap BUT you won't notice because the overlap will be the same colour.
Top Tip No 5: Take Control Over Picture Positioning
One of the biggest problems people encounter when they add images to Word label templates is positioning. As a word processor, Word is designed primarily for adding, editing, and arranging TEXT – not images. While it does offer support for images, Word will always prioritise text over images and positioning images according to the text in your label template (even if you haven't actually added any text).
To give yourself more control over the positioning of images in Word label templates, you need to change the "Wrap Text" format of your images. By default, this is "In Line With Text" – meaning that Word will align your images based on the text it assumes you will want to enter. Left click once on an image to select it and bring up the "Picture Tools" (for pictures) or "Drawing Tools" (for shapes) Format Tab. Under "Wrap Text", select "Tight". If you find that an image is partially overlapped by another element in your template (and using the "Bring Forward" or "Bring To Front" tools in the format tab don't help), try using "In Front Of Text".
Top Tip No 6: Have A Plan For Designs With Multiple Elements (& Work Back To Front)
If your label design is made up of multiple elements (e.g. multiple images or a mix of text and images), we recommend taking a minute to sketch your design and work out how you need to layer your elements to create your required design. You should then work from the background forward, layering each element in order, which helps to avoid potential problems with Word trying to "helpfully" arrange your layers for you.
Top Tip No 7: Use A Central Alignment To Keep Your Design In Line
Using a central alignment tends to give you better control over the positioning of different elements within a design. While you might think that using a left alignment for elements that sit on the left hand side of your design and a right alignment for elements that sit on the right hand side of your design would make things easier, this does restrict how an image can be positioned. This means that using a more generic central alignment and repositioning your images as needed actually allows you to create your label design more accurately.
Top Tip No 8: Always Test Print Label Templates
Image-based designs tend to require a more accurate alignment than simpler text-based designs. A misaligned image always tends to stick out more than misaligned text, which is why we strongly recommend doing a test print of image-based designs before printing onto your labels themselves.
Load a blank sheet of paper into your printer (using the media bypass tray if your printer has one) and set up your print settings as you would to print your labels (using a specific "Labels" or "Heavy Paper" print setting). Hold your test print against a sheet of your labels and hold both up to a light source to check the alignment and see if you need to make any adjustments before printing onto your labels proper.
Top Tip No. 9: Don't Expect More From Word (Or Yourself) Than It Is (Or You Are) Capable Of Delivering
We've already mentioned the fact that Word is, primarily, a word processor designed to handle text only. While Word can handle design-based tasks (and create a perfectly printed set of labels), it is by NO MEANS designed for creating complex designs that require a high level of detail and accuracy.
Creating more complicated designs in Word can be done – if you have the knowledge of the tools required to do so AND the patience to work around the limitations in Word. If you don't have either of these things or if you're looking to create a label design that is simply more complex than Word is capable of reproducing, then you should get someone else to do it for you, use other software, or compromise and simplify your design.