Label Planet's Guide To Choosing The Right Adhesive Labels
A Handy Flowchart To Help You Choose The Perfect Adhesive Labels
We supply THIRTY ranges of self adhesive labels giving you a choice of TEN different types of adhesive. This many choices can be confusing – especially if you need sticky labels for very specific circumstances.
So, we've pooled our knowledge of self adhesive labels to create a simple flowchart. This chart will guide you towards the adhesive labels that are right for your label application.
You simply need to answer TWO basic questions to find out the type of adhesive that you should choose.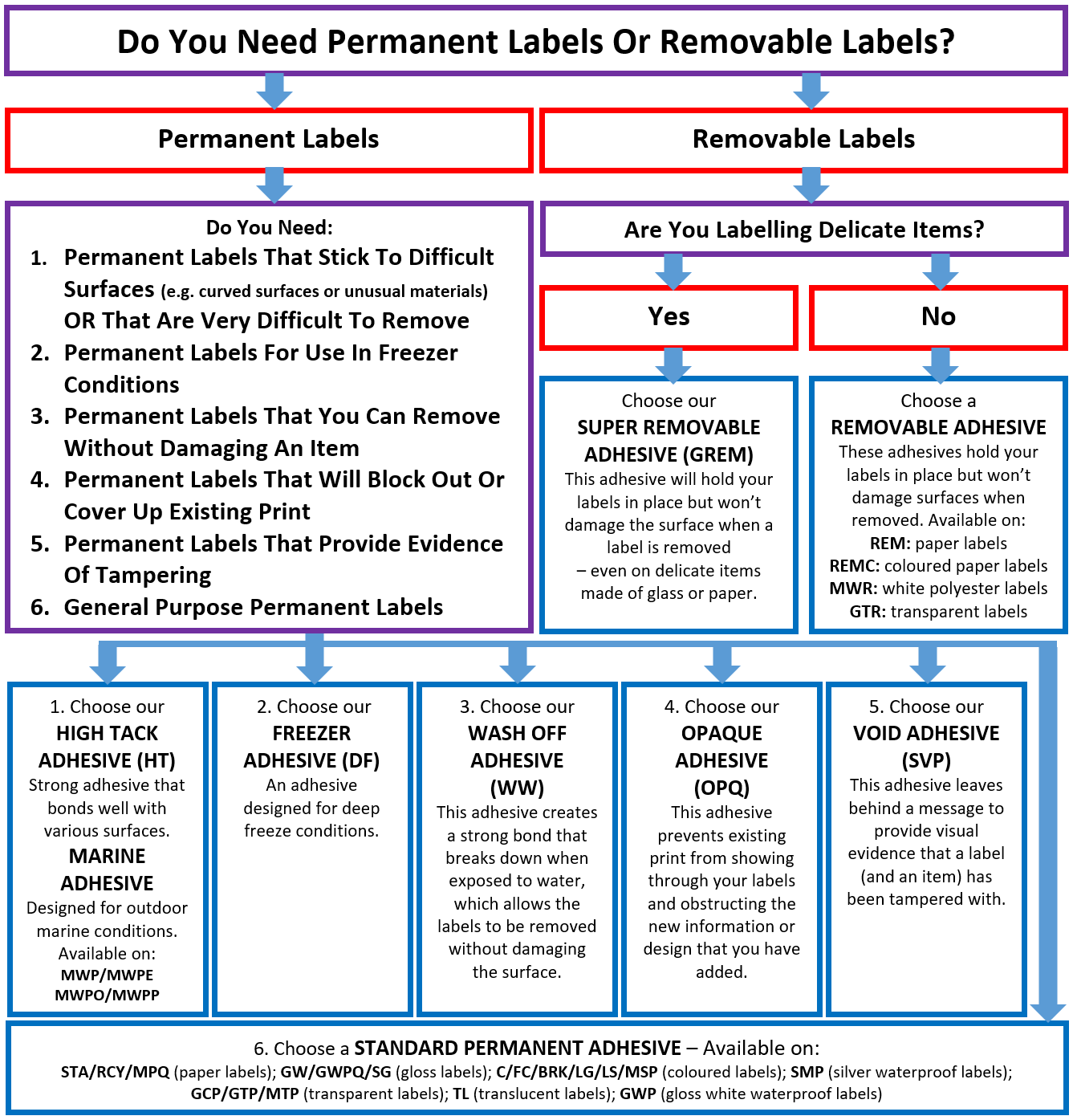 The (Inevitable) Exception To The Rule Of Choosing The Perfect Adhesive
There is an exception to this rule and that is temporary labels to stick onto clothing or fabric items. For example, you might want product labels for clothing or fabric items that can be removed without damaging those items after they have been sold. Alternatively, you might be hosting a networking event and want to hand out temporary name badges or you could be hosting a charity event or open day and want to give people stickers to reward their participation. Either way, your sticky labels mustn't ruin people's clothing at the end of the event.
In this case, we recommend a standard permanent adhesive instead of a removable adhesive. This is because fabrics have unusual and varied surfaces that can be difficult for removable adhesives to bond with properly. Permanent adhesives have the extra strength to ensure your adhesive labels remain in place BUT they won't form a solid bond, which means they can be safely removed from clothing.
Next Steps: Request A Sample Or Place An Order For Your Adhesive Labels
Once you've found the right adhesive labels for your labelling application you can request a sample or place an order. Our free sample service means you can make sure that you've really got the right adhesive for your application before you go ahead and place an order.